Duke AERO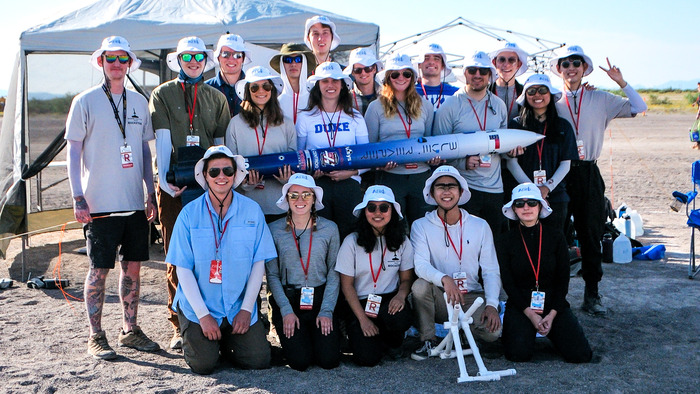 Spaceport America Cup is the world's largest intercollegiate rocket engineering conference and competition. This competition is run through a collaboration between Spaceport America and the Experimental Sounding Rocket Association (ESRA). Each June, more than 1,700 students and faculty gather at the Spaceport America site in Southern New Mexico. It also features presentations, booths, and other opportunities to engage for industry representatives and amateur aerospace enthusiasts.

In 2023, for the first time ever, ProtoSpace Mfg/Protocase sponsored this event. The sponsorship also provided an in-kind sponsorship for manufactured parts to all registered teams.

Duke Aerospace Engineering Research Opportunities, better known as Duke AERO of Duke University, took advantage of the sponsorship. Their team has doubled since last year's competition and now sits at over 60 members, with their office-bearers consisting of President Josh Kramer, Vice President Vinnessa Van, Treasurer Chris Knotek, Corporate Outreach Chair Alison Korn, Secretary Cole Shepherd, and Diversity & Inclusion Chair Sage Cooley.
Get to Know Them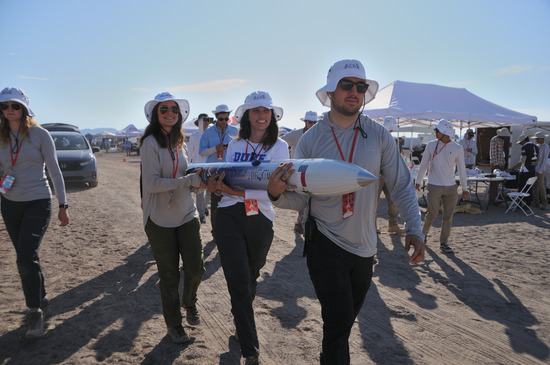 So, who is Duke AERO? What do they represent? Why do they do what they do? We asked them the very same questions. "Duke AERO is a student-run rocketry program founded on the core principle of providing engaging aerospace opportunities that allow students to explore what the field may have for them. AERO provides students the opportunity to involve themselves in hands-on aerospace construction projects and relevant research and grants them the ability to network with individuals in the industry," says Alison Korn.

As their team continues to grow and expand, exploring new avenues within the industry, they have subteams to help navigate it all: structures, avionics, payload, recovery, and solid propulsion and simulations.

This year, the team added a new subteam – liquid propulsion. "It's a new, experimental subteam focusing on mixing a liquid propellant motor to be used in future years."

Korn says they created this new subteam because they aim to expand research into manufacturing their own liquid motors, in addition to the new student-researched-and-designed solid motor they are implementing this year.
The Blue Reaper
Duke AERO's rocket for this year's competition donned the name Blue Reaper.

"Blue Reaper was Duke AERO's most advanced rocket yet, with an airbrake system actively controlled by in-flight data and a deployable CubeSat payload," explains Korn.

The rocket also showcased the team's progression in structural capabilities.

"With nearly every aluminum and composite component manufactured in-house, Blue Reaper was Duke AERO's largest diameter rocket to date, and the sparkly blue threads woven through the carbon fiber layup on the fins caught many other teams' eyes at the SAC poster presentation day."

For SAC 2023, the team decided to compete in the 10k – Commercial Off-the-Shelf (COTS) – All Propulsion Types category. They chose this specific category because they took a "walk before you run" styled strategy for this year.

"For the 2023 rocket, we planned to increase the diameter of our body tubes, add a student-researched-and-developed airbrakes system, produce our own flight computer, and add a complicated payload, all feats more advanced than those of previous years. Thus, we felt it would be best to integrate these components into a rocket with a reliable COTS motor and lower altitude target," explains Josh Kramer.

The team found a lot of success in this category, and learned plenty along the way that they intend to take with them moving forward.

"The team was one of the first teams to launch on the second day and achieved a height of 8,279 ft. The avionics successfully deployed the drogue parachute at apogee and later the main parachute to allow Blue Reaper to land smoothly in the desert," says Korn.

The team already considered this a major win, however, after a speedy recovery it was time for Blue Reaper to meet the judges.

"Duke AERO brought the rocket to the judges for inspection, where it received full recovery points and clearance to be launched again."

In the end, Duke AERO finished 38 out of the 119 international teams that were able to launch.
Working with ProtoSpace Mfg

The relationship with Duke AERO first began when SAC announced that ProtoSpace Mfg would be sponsoring the competition and offering an in-kind sponsorship to student teams. As the competition drew near, the team knew they would need a pair of rails that would be difficult to manufacture for their CubeSat Deployment System, and they needed them in a bit of a pinch – a specialty for ProtoSpace Mfg.
"The rails manufactured by Protocase/ProtoSpace Mfg served as the guiding surfaces for our CubeSat as it was ejected out of the nosecone of our rocket," explains Sam Savitt, Payload Team Lead for the 2023 competition.
To accommodate the 12"-long 3U CubeSat, the rails had to be long and stable while being compact enough to remain within the 6" payload bulkhead.
"A smooth finish along the sliding face of the rails was also critical for the CubeSat to freely be loaded and ejected. These requirements required precise design and machining for successful functioning."
Savitt says he'd categorize his ProtoSpace Mfg experience as efficient, reliable, and effective.
"Within a day after our initial contact, we held Zoom calls with the account managers and engineers to determine how we could get the parts done as cost-effectively and simply as possible. They delivered on their lead time and were in constant communication throughout the entire process. Most importantly, we had our rails ready for launch day and they performed as designed."
Duke AERO also deemed the ProtoSpace Mfg student sponsorship credit to be a "significant help".
"As a young rocket team that receives limited funding from our university, we rely heavily on sponsors to provide us with the financial and material resources with which we build and launch our rocket each year," says Korn. "Thus, the student sponsorship was a significant help in allowing us to enter a technically competitive payload into the Spaceport America Cup SDL Payload Challenge. Otherwise, we would not have had the means to create rails to the degree of quality as the ones we got from Protocase/ProtoSpace Mfg."
Preparing for the Future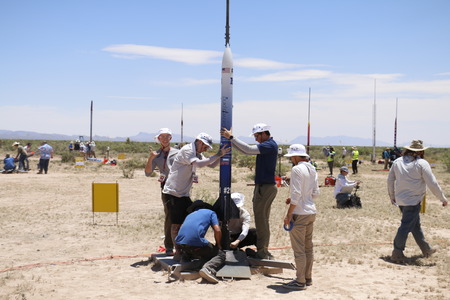 The team says they feel that their placement acted as a good reminder of how capable they are as a team and that it was the confidence booster they needed to continue moving forward. Duke AERO was awarded the 4th highest design quality score out of all teams at SAC.

"This is an achievement that we are extremely proud of because of the immense effort and collaboration between every single subteam. This accomplishment is valuable confirmation that we possess a deep understanding of our work and can be confident in our abilities," says Cole Shepherd. "We intend to continue producing rockets of exceptional design using the principles that we learned from the production of this rocket."

Already, they've begun setting goals and planning for the 2024 competition. For instance, launch issues during Day 1 of the 2023 competition meant they had to delay their launch to the second day.

"Our goal for the 2024 competition is to have practiced a full stack of the rocket frequently enough to arrive on the first launch day and integrate the rocket seamlessly in order to launch with the first group of rockets," says Shepherd. "In addition to earning a bonus score, a launch on the first day will prove our abilities as engineers to ourselves and others."
A Helping Hand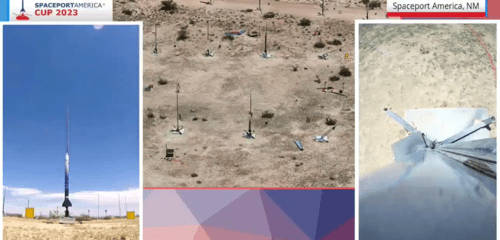 Having learned so much from the 2023 competition, Korn has key pieces of advice for teams as they prepare for next year's Spaceport America Cup.

"We would recommend that teams create as professional of a club atmosphere as possible to best imitate the aerospace industry and thus prepare them for future aerospace careers. It's important to have clear leadership, planning, and organization for each subteam, as well as to ensure the subteams are communicating regularly with each other so the various rocket components can be well-integrated into the full system. We would also encourage teams to use any and all resources available to them, whether that includes other teams, faculty mentors, online research, or helpful industry partners such as Protocase/ProtoSpace Mfg."

For more information about the 2024 Spaceport America Cup, visit spaceportamericacup.com. Teams registered for the 2024 competition are encouraged to check HeroX for full details about the ProtoSpace Mfg manufacturing sponsorship.